New Policy Alerts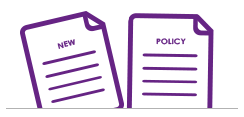 As new policies are enacted, information will be posted here for you to view. Click an item to expand the view.
Statewide Policies Effective 10-3-2022

• Waiting List – Once a child is placed on the waiting list for a Child Care Scholarship, the parent must indicate the continued need every three months.
• Children With Disability –eligible children under 19 may be eligible for services with required documentation
• Income Limit –established a statewide income limit of 85% of the State Median Income (SMI), which is the federal income limit.
• Initial Placement – Job Search –allows for the parent to search for employment coming into the program for three months.
• Child Care while attending an education program –statewide policy for parents enrolled in a educational program, who is attending the educational program full time and receiving child care assistance while the parent is in the education program, for a cumulative total of 60 months. The limit applies only to parents enrolled full-time in a postsecondary undergraduate education program.

Child Care Provider Changes Effective 10-3-2022

• Entry Level Criteria – Child care programs are required to meet specific criteria for participation in the Child Care Program.
• Mandatory Texas Rising Star – Existing and new programs will have a specific time limit to obtain a star rating.
Comments
Sign In to post a comment.