Parents
Forgot your Customer (TWIST) ID? Click here to complete a short form, and a CCA representative will contact you.
Welcome Parents!
This Parent Portal will allow you to request changes or updates to certain information specific to you, such as your child care provider, children in care, co-pay fees, and more.
By registering, you will receive benefits such as being able to submit requests to be processed by a CCA staff person, sign up for text alerts, and more. Please note that not all functions will be available to all registrants, depending upon your status as a CCA parent.
To get started using the Parent Portal, click on the button at right that most closely describes you:
I want to apply for child care services through CCA — Apply for Child Care Services
I have CCA child care services, but have not registered an account — Create Login and Password
I have already registered and have a secure login and password — Login to Parent Portal
COVID-19 Service Industry Recovery
In order to address the impacts of COVID-19 and to support Texas' continued economic recovery, the Texas Workforce Commission (TWC) has approved funding to support a new COVID-19 SERVICE INDUSTRY RECOVERY child care program to help low-wage workers in TWC-specified service industries.
This is for 12 months only.
Approved Industries:
Arts, Entertainment, and Recreation
Accommodation and Food Services
Retail Trade
Income Level Chart – based on household and your gross (before taxes) income:
| | | |
| --- | --- | --- |
| Family Size | Monthly | Annually |
| 2 | $3,629 | $43,549 |
| 3 | $4,483 | $53,796 |
| 4 | $5,337 | $64,043 |
| 5 | $6,191 | $74,290 |
| 6 | $7,045 | $84,537 |
| 7 | $7,205 | $86,458 |
| 8 | $7,365 | $88,380 |
| 9 | $7,525 | $90,301 |
| 10 | $7,685 | $92,222 |
Frequently Asked Questions
Parent Education & Training
Children are the most valuable asset; therefore it is essential that you become good consumers of services that support you and your family.
Education & Training

Find answers to some of the most frequently asked questions about the CCA program.
Is this a secure website?

Yes, we have ensured that this site meets all of the Texas Workforce Commission security requirements.

Once in the program, how often do you recertify services?

Eligibility is determined every 12 months.

If my information changes before then, do I need to report it?

Yes, you MUST report any changes that relate to your household size, income and work hours within 10 days. You will jeopardize your assistance if you fail to meet this requirement.

Is the child care free?

Your share of cost is based on your family size, income, and the number of children receiving child care assistance. If you are in training, and have no income then CCA will pay the full cost of care.

How does my provider get paid?

The child care program that you choose agrees to a specific rate based on the age of the child enrolled. You will be assigned a share of cost based on your income, family size and how many children are enrolled in the program. You will pay your child care provider at the beginning of each month. Child Care Assistance will pay the remaining cost directly to the child care provider.

Who do I pay my co-pay to?

You pay your provider the assigned co-pay and CCA pays the provider the rest.

I am cash paid, and I have no verifiable income, what do I do?

You will not be eligible for services. We must be able to verify that the income and the business.

I am self-employed, what do you need?

We must be able to identify that you are a business, and what your income is, therefore we accept items such as profit and loss statements, business licenses, and quarterly tax returns. You will also need to complete the Client's Statement of Self Employment Income form, which can be downloaded here.

I turned in my documents late. Can I still get child care?

Unfortunately we have strict guidelines and we must adhere to the rules. You need to pay close attention to what is sent to you and get the documents back by the date they are due to avoid a discontinuation of services.

I can't afford my parent fee, do you offer any help?

If you have extenuating circumstances that we can validate, we may be able to offer a temporary reduction. Your assistance will be denied for not paying your cost to the provider, so please ask us if you need help before you get behind.

Think you know what the requirements are for the Child Care Assistance (CCA) Program? You might be surprised.
Click here to download a flyer for some myths and truths!
New Policy Alerts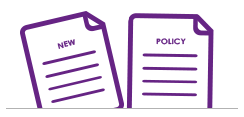 As new policies are enacted, information will be posted here for you to view. Click an item to expand the view.
Effective 03-31-2021 - TWC CCAA System Suspension

The Texas Workforce Commission (TWC) will suspend collecting attendance through its Child Care Attendance Automation system.
Click here to download a flyer

Effective 11-01-2020 - TWC Work Reinstatement Requirements

The Texas Workforce Commission (TWC) has reinstated the work requirements for parents receiving benefits.
• The change, following the state's continued re-opening of businesses, brings TWC's child care program in line with its mission: to provide improved access to quality child care to enable families to return to work.
• The three-month limitation on receiving child care subsidies if you are not meeting work or education requirements is being reinstated.
• Extensions of your 12-month eligibility period are ending and once your current eligibility end date arrives, the case will be either closed if you do not meet the eligibility requirements or you will be redetermined for a new 12-month period if you qualify for child care assistance.

Effective 09-01-2020 - Transfer Notification

Parents must give a two week notice to the existing child care provider before services can be authorized to begin at a new child care program. All assigned parent fees must be paid. You will be contacted by a ChildCareGroup employee to confirm the transfer request.