Early learning education is essential to the development of children and preparing them for school.
Through federal, state and local funding from the Texas Workforce Commission to Workforce Solutions Greater Dallas, ChildCareGroup is able to provide temporary financial aid for eligible families and provide professional development opportunities for early care and education providers.
Your child deserves the best. Click the green button below to get started!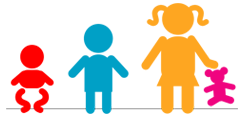 Developmental Screenings for Children
Act Early Texas!
Early Childhood Intervention (ECI)
Local Parenting Classes
Help for Parents. Hope for Children.
Texas Department of Family and Protective Services – Child Care Licensing 214-583-4253 / 800-582-6036
Texas Information and Referral System
2•1•1 Texas
Child Care Search
NorthTexasFamilies
As a child care provider, your role is important. Every day, you impact the lives of children and families. Child Care Assistance is always looking to recruit and partner with quality child care providers in Dallas County.
As a partner provider, this secure web portal allows you to submit inquiries and updates, access professional development resources online, submit attendance exceptions online, and more.
If you're interested in making a difference, click the green button below to apply now.